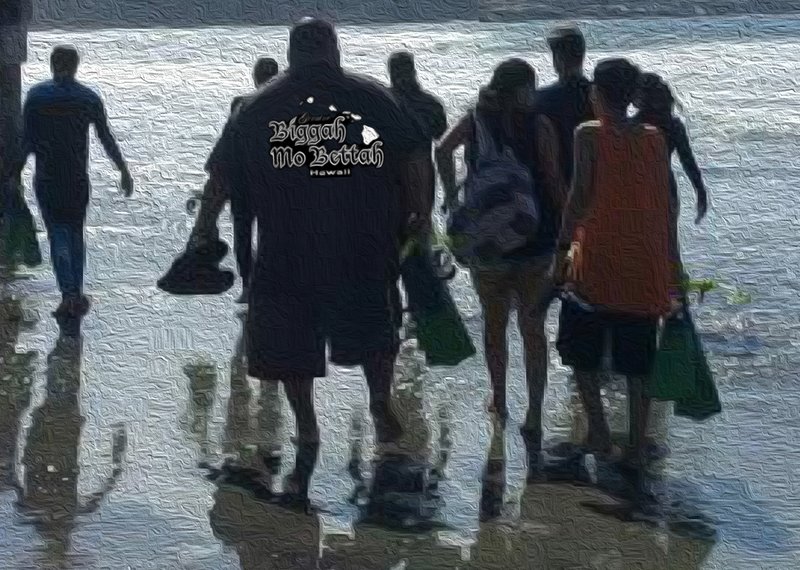 How We Got Started
Back in 2008, some friends and I were hanging at our buddy Kimo Boy's house in Kealakekua, Hawaii. Now Kimo Boy was one BIG BRUDDAH and in the middle of laughing, eating and knocking back plenty of beers, his phone rings. I heard him say ,"uh-huh, yeah, okay, MAHALO!". Kimo Boy hangs up the phone and announces, "EVAHBODY OUT!" We all looked at Kimo Boy in astonished horror! WAZZUP BRAH? How come we gotta leave? All Kimo Boy said was OUT!

Well, as it turned out, the phone call was from Kimo Boy's cousin on the Hilo side of the island who found a store carrying 4XL t-shirts. Kimo Boy had thrown us out of his house, hopped in his car and drove over 100 miles to buy a $45. t-shirt and then over 100 miles back home to Kona. I later asked him what the shirt looked like but, he didn't want to show it to me. Finally, on our third 12-Pack, he agreed to show me the shirt and I was horrified! It was a truly hideous, butt-ass, ugly garment that I'd have to think twice before using it to check the oil level on my car (like I ever check the oil or anything under the hood!). So I tell Kimo Boy, "You know brah, dats one ugly monstah!" His reply was, "I know brah but, IT FITS." I thought about it and told him, You know brah, I think we can do bettah....way mo bettah!

And so began Biggah Mo Bettah. I worked up a logo and a few designs and found a source for big ass shirt blanks in Honolulu. I printed up some samples for Kimo Boy and the entire thing snowballed! I went into production and began hitting every street show, craft show, farmers market and sales opportunity I could find. For a few years, I took the shirts to the Made In Hawaii Festival at the Blaisdell Center in Honolulu. I was able to get on TV, radio and newspapers. People LOVED the line and wanted more. So, I came up with more ideas and because we had so many request for keiki sized shirts, I created, Half Pint Hawaiian.

Half Pint Hawaiian is our line of KeikiWear, It's an irreverent, humorous line of Onesies, T-Shirts and bibs with serious Hawaiian attitude! Today, I'm very proud to say that Half Pint Hawaiian enjoys a 100% customer satisfaction rate. We've yet to have one single infant complain about any Half Pint Hawaiian Onesie, T-Shirt, bib, hat or product. Now, that speaks volumes son!

Today, Biggah Mo Bettah and Half Pint Hawaiian are sold exclusively at Too Much Fun Hawaii in downtown Kailua-Kona and sold on-line here at, biggahmobettah.com so, live BIG, order a couple of shirts for yourself, a friend or family member and don't forget about those youngstahs in your life. Pick up a couple of Half Pint Hawaiian shirts for them too!

Aloha!

Biggah Mo Bettah........Annoying skinny wimps & health nuts since 2008.